People Finder -- especially Vietnam veterans and adoption related
Out of all our cases, these are our favorite because they are the most positive. Our Thai female agents love to find mothers and children, and we also have some Vietnam War veteran friends here in Thailand. Our agency has become a bunch of history buffs over these cases.
When we do these cases, we usually use Thai lady agents, who are friendly and socially skilled. We do not identify ourselves as private investigators or detectives, nor do we approach people in that manner. You can consider us your friends. We have made friends with some of the people we know. We still get occasional social calls from some of them going back years.
Our main experience is in these kinds of cases:
Finding out about the parents of an adopted Thai child (separate section)
Finding the mother of the children of Vietnam veterans
Finding the children of Vietnam veterans
Finding brothers, sisters and other family members
Finding Thai friends and associates
Finding Thai girlfriends (see privacy policy at bottom of page)
Some cases are fairly systematic using our standard methods to solve. Other cases require unique analysis of clues and insights to follow leads carefully.
When we find the person, it is usually a very emotional experience. In fact, some of them still contact us on occasion to thank us again and generally socialize! (We use friendly and personable agents who love their work.)
If the person we find can speak English, or if you can speak Thai, then we can put you into immediate verbal contact via our mobile phone. Otherwise, we can verbally interpret or provide written translations for you. We collect all the information we can. We take digital photos of them, and scan photos from their photo albums.
Here is an actual case photo of a private investigator (lady on the right) on a people-finder case with one of our portable computers and a scanner, scanning photos from the family album for sending back to our client in the U.S.: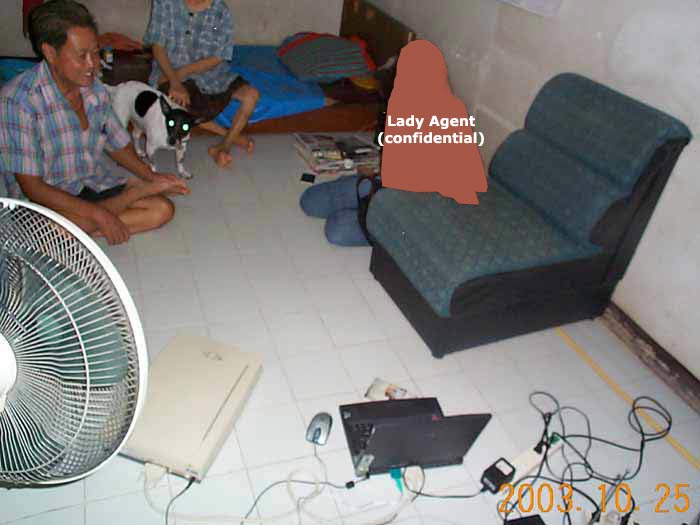 Notably, "taking a photo of an old photo" using a digital camera doesn't result in good quality. A scanner makes a big difference, as a far higher resolution can be obtained, e.g., blow-ups of faces in family group photos. We do this regularly with photos people mail us, because blowing them up and printing them ... and sometimes processing them digitally (brighten, darken, contrast, sharpen) ... improves the picture dramatically. Many things the human eye doesn't discern can be brought out by modern electronics plus software plus operator skill. We've got it all.
What information do you need to provide?
First, please contact us and tell us your general situation. We can guide you. We may or may not need photos. We can tell you which documents are more important than others. Often, we can get started and sometimes even find the person before you've had a chance to collect all your information!
Sometimes, the only piece of information we need is your birth certificate which lists the maiden name of your mother. We have always been able to find the mother based on only that copy of the birth certificate.
Additional information can speed up the process and reduce the cost.
Absence of a birth certificate means that we must get other information, of course.
We usually require a reasonable deposit to start allocating our resources, and an agreed "reward" fee when we are successful in finding the person. The exact amount depends upon the information available at the outset.
Problem cases:
One thing which has surprised us is the number of cases where children are looking for their Thai mother, and their father has told them that their mother died ... when in fact she has not. With the advent of the internet, the children eventually contact us, discreetly, to find out for sure.
The mother and the children are always overjoyed, and the children usually come to Thailand as tourists to experience their family roots.
The ramifications for a father who had maintained a false story are not good, and it is strongly advised that such a situation be rectified while it still can be.
(In one case, a father came to us because his son had pressured him to promise to try to find his son's mother, and they had sat down at the computer together. Yet, after first contact, he delayed and seemed to resist. We bent over backwards to accomodate him. After some unusual communications, we receiving a deposit along with almost minimal information and a note that we probably couldn't find her which would be OK. After we made remarkable progress on the case (and finding out that he had provided some misleading information), his reaction was to order us to cease and desist immediately!)
It is best to manage these situations in a personalized, case-by-case way.
We have never had a case where children finding their mother resulted in net negative feelings towards their father ... except when their father maintained a lie to the end.
On the other hand, fathers who have helped their children to find their mother have always been at least appreciated to date.
At the very least, it has brought closure to some.
Usually, it is just the beginning of a wonderful re-adventure in life.
People Finder -- Lost Girlfriends
Important note: We respect people's privacy, and also protect their safety.
In lost girlfriend cases, when we find the person, we ask permission to give their contact information to you, such as:
Telephone number,
Street address, and/or
E-mail address

Important note: We respect peoples' privacy, and also protect their safety. In missing persons and people-finder cases, when we find the person, we ask permission to give their contact information to you. They usually grant permission enthusiastically; however, occasionally a subject will not want to be contacted. If they do not want us to give out some or all their contact information, then we do not. Sometimes we are asked to give only their e-mail address, or to be an intermediary for a letter both ways. We report their request back to you, together with information which would verify that we did indeed find them (e.g., facts from your history that you had not told us). In any case, all fees are nonrefundable, as we have provided our service.

This applies to all people finder cases. The vast majority of non-girlfriend people finder cases result in enthusiastic interest in being contacted. However, many former girlfriends do not want to be contacted or reveal their private information.
We have been contacted by obsessed men after a breakup, stalkers and other potentially offensive types. We have also been contacted by creditors and people with ill will.
It is a matter of both personal privacy and safety.
---
Case studies:
In the vast majority of cases, we have found the people -- mothers, fathers, children, siblings, relatives, friends, and professional associates. While we can find the subject from databases, it usually requires field work in the end, whereby we send two friendly Thai lady agents out for face-to-face interaction, with translated documents and photos from you, and we provide contact information, photos, and/or documentation back to you.
Sometimes, we are asked to assist in divorce procedures with a long abandoned Thai wife. We can assist in the official divorce procedures, and are experienced and familiar with implementing this process with your Thai wife. If the court has already granted divorce to the Thai wife based on abandonment, then we can retrieve a certified copy of the court document. We can also retrieve a divorce/marriage cancellation record at the amphur office. In any case, we can get the necessary paperwork to you, with certified translations.
Most cases are very straightforward and friendly.
However, some take some strange twists:
---
---
---
You are currently on this page:
Additional, children pages of this current parent page:
Find a Person :
Adoption Tracing
Drugs Usage

To get the right person for the job, please send a message to our "inbox" (not "info") at

Alternatively, you can just use our contact form
Either way, we will usually respond within 1 to 24 hours.
---
All text content on our site is proudly original and copyright © 1997-2015, All Rights Reserved.
We do not tolerate copycats, and we are honorable people with class. Please remember thaiLANDpi.com

Our company is located in central Bangkok on Sukhumvit soi 2, within walking distance of the skytrain, between the Ploenchit and Nana stations.

Thailand Private Investigations,
a division of:

Lucky Lion Pride Co., Ltd.
Ploymitr Office Building, Floor 7
81 Sukhumvit soi 2
Klongtoey, Klongtoey Bangkok 10110
Thailand

By appointment only, please.
Sometimes, an agent can meet you at
your location (depends on location).

Email: inbox at our domain name.
Office Tel.: +66-2255-0620
Mobile: +66-80-062-4243 (native English speaker)

Old customers please note:

We moved our office from Pakkred, Nonthaburi (next to the government post office) to the city center. Please do not go out to our old office in Pakkred, on Bond Street. We are no longer there.
Our office is co-located with Export Quality Services Co., Ltd., aka EQ, which is the same company we previously operated under, but we split off the private investigations business to a daughter company, Lucky Lion Pride Co., Ltd., whereby EQ now focuses on language translation and some other things.

Mobile Tel.: +66-80-062-4243 or 080-062-4243 (native English speaker) -- call ANYTIME, 24/7 (I turn off my phone volume when asleep)
If you want to chat via LINE / WhatsApp, please add the phone number above to your phone's contacts, and it should automatically add me to your LINE and WhatsApp shortly after that.
For expediting in LINE, my LINE ID is alphalion (alpha lion with no space between the words).